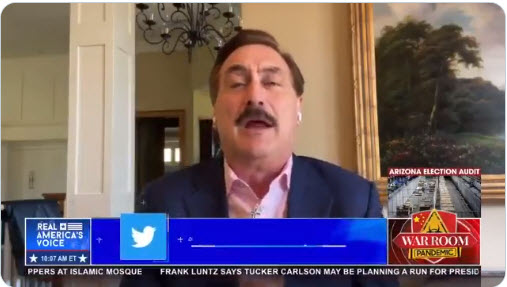 The legal pillow fight between MyPillow CEO Mike Lindell and Dominion Voting Systems rages on.
Lindell is proving to be a fearless fighter for election integrity. He is not backing down from collecting voter fraud evidence even after Dominion filed a $1.3 billion lawsuit against him.
On a Saturday episode of Steven Bannon's podcast, Lindell said Dominion's case against him is "coming apart at the seams."
Lindell offered his newest taunt towards Dominion on Real America's Voice program, claiming that his personal probe into unfounded election voter fraud is currently conducting tests that will "prove" their machines were rigged in President Joe Biden's favor. But the pillow-selling pundit may have a hard time softening up his legal team toward his ongoing jabs at the $1.3 billion defamation plaintiff, Dominion.

Newsweek
Lindell has countersued Dominion with the goal of eventually reaching the U.S. Supreme Court.
Buzz America will continue to follow new developments on this continuing saga.