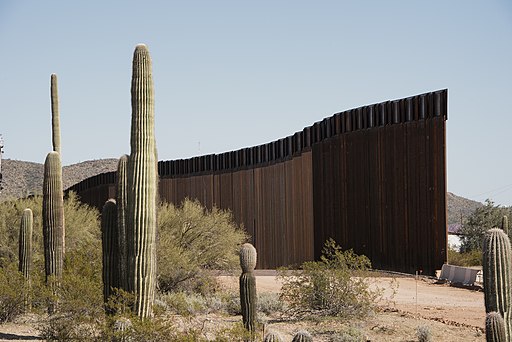 The U.S. media has so many fires to cover right now, it's hard to stay focused.
Cable news is spending a lot of time in Minneapolis with the Derek Chauvin trial, Duante Wright's death, and subsequent riots.
Meanwhile, Biden's southern border continues to cave in.
Despite being appointed the leader of the border crisis, Kamala Harris has yet to visit the southern border or do anything of substance to try to stop the "surge" of illegal immigrants pouring into the country. (We'll get back to her in a moment.)
The situation has deteriorated so much that the Presidents of both Mexico and Guatemala are now publicly calling out Joe.
Guatemala's President Criticizes Biden on American Television
During a sit-down interview on MSNBC, President of Guatemala Alejandro Giammatei said:
A few weeks ago, Mexican President Andres Manuel Lopez Obrador, a.k.a. AMLO, put the blame of the border crisis squarely on Joe Biden. Obrador said the Biden Administration painted a picture that encouraged the current surge of people crossing illegally.
Obrador said:
"Expectations were created that with the Government of President Biden there would be a better treatment of migrants. And this has caused Central American migrants, and also from our country, wanting to cross the border thinking that it is easier to do so."

"They see [Biden] as the migrant president, and so many feel they're going to reach the United States. We need to work together to regulate the flow because this business can't be tackled from one day to the next."

Newsweek
With their respective countries in the direct path to the United States from Central America, both Guatemala and Mexico are eager to address the crisis and are looking to the Biden Administration for leadership and collaboration on the crisis.
So far, the two leaders have received nothing but a phone call from Kamala Harris full of empty promises, as 20,000 migrant children have been taken into U.S. custody after Joe's call to "surge the border."
WATCH:
Kamala Makes Awkward Announcement
No doubt the pressure coming from these two countries has prompted Kamala to at least look busy.
The VP announced she's going to visit Guatemala and Mexico to tackle the "root causes" of the migration crisis.
Her delivery of the announcement was another strange and inappropriate moment.
From the Conservative Brief:
"The president has asked Secretary [Alejandro] Mayorkas to address what is going on the border and he has been working very hard on that and is showing some progress because of his hard work," she said at a Northern Triangle security roundtable.
"I have been asked to lead the issue of dealing with root causes in the Northern Triangle, similar to what the then-Vice President did many years ago," she said. "But I will tell you these are issues that aren't going to be addressed overnight."
On plans for travel, Harris said "we have plans in the works to go to Guatemala as soon as possible," later saying she would also be stopping in Mexico.
WATCH AS KAMALA APPEARS TO BE GIGGLING WITH THIS BIZARRE DELIVERY:
Arizona Attorney General Mark Brnovich took aim at Harris over her lack of doing anything after being appointed by Joe Biden to address the border crisis.
During an interview on Fox Business, Brnovich said Harris has failed to respond to his invitation to tour the crisis at the US-Mexico border.
"I guess if you were a philosopher you would say no response is a very loud response because we've not received any response," Brnovich said.
Harris needs to "look into the eyes of people being smuggled across the border, being exploited by the cartels and realize this is a humanitarian crisis on so many levels," Brnovich said.
Days after Biden appointed Harris to oversee his administration's border responses, Arizona Gov. Doug Ducey, a Republican, called her "the worst possible choice."
What chance to you think Kamala Harris has to restoring security at the southern border? Will Biden stop this illegal immigrant surge? Share your thoughts in the comments.